Bearish Sentiment Rules Among Traders
06/15/2011 8:00 am EST
Focus: STRATEGIES
In MoneyShow.com's latest sentiment survey, traders expressed considerably more bearish opinions about the markets and economy and suggested the likely impact on their trading for the remainder of 2011.
Thousands of short-term traders are converging on the Hyatt Regency Dallas at Reunion beginning today for their annual convention, The Traders Expo Dallas. This Texas conference for retail and professional traders will bring together over 100 speakers and traders from nearly every state and 18 countries to discuss everything from technical analysis to high-frequency trading.
As is tradition for the event's producer, MoneyShow, a survey was conducted prior to the event to gauge the overall sentiment of short-term traders toward various markets. Traders were also surveyed in February prior to the New York Traders Expo. (See February's results here.)
Looking at the results, it immediately becomes clear that short-term traders have become more bearish on the markets in the past four months. When asked back in February if they believed the S&P 500 would be higher or lower for the remainder of 2011, over 54% responded that they believed the S&P 500 would rise as much as 25% for the remainder of 2011. Last week, less than 34% of respondents believed the market would perform that well.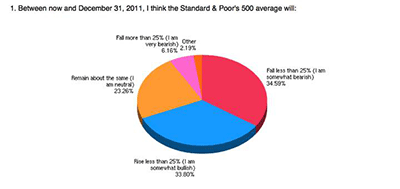 Click to Enlarge
The overall market had declined 6.7% in the six weeks prior to this most recent survey, so it may not be surprising that traders are more bearish at this time.
This bearish sentiment may result in lower trading volume through the summer months. Retail traders tend to be "long-biased," making most of their trades by owning the securities they trade, rather than selling them, or "going short."
While February's survey showed that over 50% of short-term traders would make more trades in 2011 than 2010, only 36% of those surveyed answered that same way last week.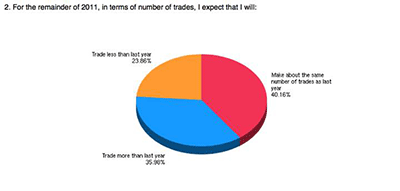 Click to Enlarge
NEXT: Short Sellers Are Getting Ready to Strike
|pagebreak|
Those traders who do short the market will be doing so more frequently, according to the most recent survey. Over 28% of those surveyed stated that 26%-50% of their trades would be short sales. In February, that number was just over 22%.

Click to Enlarge
Stocks continue to be the most popular trading vehicle for short-term traders, although the survey did see a rise in respondents who stated that their most profitable trades would be in options and foreign currency.

Click to Enlarge
Another significant change in sentiment can be found in regards to a question about the Federal Reserve. In February of this year, nearly 50% of respondents believed the Federal Reserve would raise interest rates once or twice in 2011. Now, in June, a whopping 70% believed that there would be no change in interest rates for the remainder of 2011.
A recently sluggish equities market combined with news of a very slow economic recovery has weighed heavily on the minds of retail traders nationwide.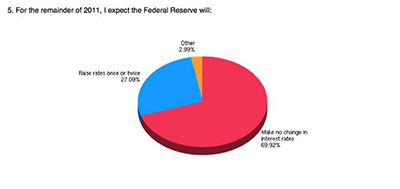 Click to Enlarge
NEXT: Latest Trader Sentiment on US Dollar, Gold, and More
|pagebreak|
Surprisingly, over 51% of traders surveyed last week still believed that their trading profits in 2011 would be higher than they were in 2010. However, that number declined significantly from the February survey, which resulted in 72% stating their trading profits would be higher in 2011 from the year prior.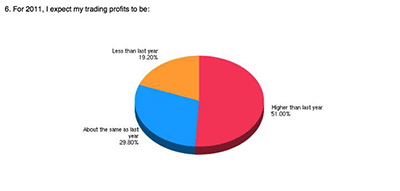 Click to Enlarge
Traders were then asked if they felt the value of the US dollar in relation to other currencies would rise or fall. The largest group (41.47%) stated that the value of the dollar would "fall moderately" against other currencies. That number was just over 31% back in February.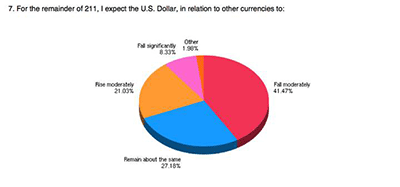 Click to Enlarge
Short-term traders are still bullish on the price of gold, with nearly 60% stating they believed gold could rise as much as 25% in the remainder of 2011. That would put the price of gold as high as $1913 prior to December 31, 2011. Traders were almost exactly as bullish back in February, indicating gold is not at the bubble stage just yet.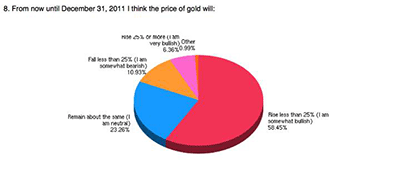 Click to Enlarge
Responding traders did, however, feel differently about the price of crude oil for the remainder of 2011. In February, almost 80% felt crude oil would rise in price for the remainder of 2011, while the most recent survey showed only 47.22% of respondents felt that same way.
Clearly, the slow economic recovery has impacted how traders feel about the price action in oil for the remainder of this year.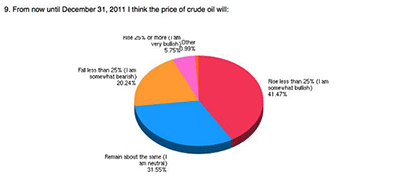 Click to Enlarge
And finally, in perhaps the most dramatic change in sentiment since February, only 18.09% of traders surveyed believe the US economy would improve over the rest of 2011.
In February, that number was just over 49%, and 40% of traders surveyed last week believe the economy will actually worsen from here. Back in February, that bearish number was only 18.19%.
While short-term traders are usually less concerned about the overall health of the economy than their long-term investor peers, they are clearly concerned with slowing growth and the resulting decline of the stock market that has unfolded recently.
These are definitely topics that will be on their minds as they attend The Traders Expo over the next few days.
Watch LIVE Webcasts from this week's Traders Expo on MoneyShow.com. Click here.
By Tim Bourquin, co-founder, Traders Expo; Managing Editor, MoneyShow.com