Using Trend Channels to Kick Start Your Trading
02/27/2013 6:00 am EST
Focus: STRATEGIES
In any market, the most consistent profits people make are made from trading with the trend, notes Pete Southern of LiveWire Market Blog, so it's important to master this skill.
It's a fact that when a market is trending, going with the direction will pay off more often than fighting it. If you fight the trend, you will normally be picking tops or bottoms, and although some traders have this off to a fine art, the more simplistic of us prefer to go with the flow.
The simple way to identify an upward trend is by looking for a series of higher highs and higher lows. Or in reverse, a down trend is defined by lower lows and lower highs. Either way, there is profit to be made from going with it. So how do you identify a trend and find your entry point? Well on most chart platforms there's a ton of different methods and indicators to help you do this but in this article I'm going to show you the good old fashioned trend line and break entry.
Finding a Trend Channel
Firstly, if you have never drawn trend channels before, then I would advise you to practice your drawing skills for a while before even thinking about trading them. Finding a nice obvious channel is the key. By connecting a series of highs and lows together with a trend line you can show a nice visual range in which the price is trending. Let me show you a picture.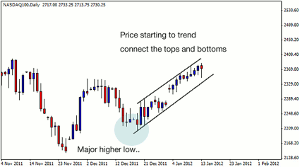 Click to Enlarge
First thing is to look for possible turning points in trends. For instance, in this example, a period of down trend was reversed and the price printed a higher low. As the price starts to move up again from this low area, you are able to start drawing your trend lines connecting the tops and bottoms. Until you identify a few movements within the trend, you won't be able to determine the channel. Often traders of this method tend to draw a potential channel on their charting platform, save it, and monitor the progress over the coming days or weeks. When you see a clear channel then you need to search for an entry point.
Finding an Entry

Click to Enlarge
With many sustained trends, there will be small periods of consolidation within the channel. These sideways days or weeks give you an opportunity to trade the breakouts in the direction of the trend. As the price comes off the bottom or top of a channel and ranges sideways, draw some horizontal lines over the tops or bottoms (if you are trading a down trend). Now this is where a bit of training your eyes and experience comes into play. You could just draw a line straight over the top of any bar or candle after a new move in the trend. However, this would (more often than not) create a lot of false signals and entries. You need to get a feel for the ranging movement the trend is in. You need to feel the uncertainty and find a range, which starts to show some definite tests of highs and lows at corresponding levels.
Let's zoom in on our trend. In the highlighted area you can see the price finds a high and is rejected, which forms a hammer type candle, which goes to test the low of the area and is then rejected again. This is followed by a small doji candle. A candle that signifies the market is undecided what to do. These are the sort of patterns to look for. Breakouts above these areas can lead to a new high in the trend and are (obviously) a good entry point. For those cautious on risk, you can place a stop loss just under the lower region of the consolidation area. If the price breaks below it, then you could be on the end of a trend reversal, you don't want to be the wrong side of this now, do you? So to recap, in short, you are looking for periods of range within the trend where a high is rejected and a low is tested and rejected. Then look to join some tops.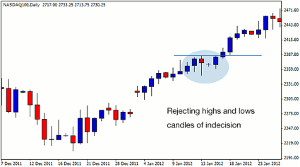 Click to Enlarge
And that's about it. Maybe it seems too simple, but like most things in life simple is usually best. Take some time out and start practicing drawing trend channels and get a feel for the ranges made within them. It could kick start you're trading.
By Pete Southern, Technical Analysis Contributor, LiveWire Market Blog. Follow him @livechartsuk.