Ride the ETF Surge with Options
02/18/2016 11:30 am EST
Focus: ETFS
For anyone seeking vehicles with low fees, tax efficiency, and that offer diversification, the Options Industry Council (OIC) highlights the benefits, rapid growth, and overall appeal of ETFs, plus, they outline the many reasons listed options on ETFs are attractive.
Why do investors like ETFs? In a nutshell, because of their low fees, their tax efficiency, and the ability to easily diversify your investment. ETFs trade like a stock: on an exchange, with a secondary market, and similar low commissions.
ETFs offer a wide choice of investable asset classes and market segments. Investors can buy or sell shares in the collective performance of an entire stock (or bond) portfolio as a single security. They offer the possibility of diversity with one trade at a fraction of the cost of the typical actively-managed fund.
ETFs have enjoyed strong growth, as the graph below shows. 2015 was a headline year for ETFs, with record inflows in the US of $250 billion and a record number of 276 ETF launches. Figures quoted by professional services firm Ernst & Young (EY) show that ETF assets in the US rose from $790 billion in 2009 to $2.141 billion in July 2015, a compound annual average growth rate of 18%. In their 2015 study ETFs on Track for Spectacular Growth, EY also estimated that US ETF assets are the largest in the world and account for more than 70% of the global total.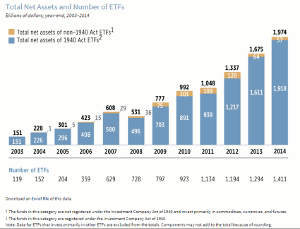 Source: https://www.moneyshow.com/?nf=true
Click to Enlarge
About 40% of US ETFs have options traded on them. As of January 2016, 275 ETF options were listed on US equity option exchanges, covering themes like industry sectors, volatility, small-cap, mid-cap, and large-cap stocks, commodities, innovation, specific investment themes in various countries, and interest rates. For a full list of ETFs available on US equity option exchanges, click here, then go to symbol lookup (at top right of screen), type 'ETF' in 'Company' box and search.
Listed options on ETFs are attractive because they provide a wide range of positioning opportunities for the broad market or specific sectors. Bullish on Internet stocks? Bearish on the retail sector? Think the broad market is going nowhere? ETF options allow you to position yourself with a single trade. An option on an ETF gives investors added possibilities, such as protection and income generation strategies.
ETF options have standardized contract terms, similar to those of vanilla equity options. They are American style (offering the possibility of early exercise and assignment) and are physically settled at maturity by the delivery of the underlying ETF share, if the option position has not already been closed by an offsetting trade. ETF options offer the same hedging and investment capability as other exchange-traded US equity options.
You can see which ETFs are most active each day on the US equity options markets by visiting here and then clicking on the ETF tab. From there, use the Symbol Lookup tool in the top right corner to see more details on the ETFs listed.
DISCLAIMER: OPTIONS INVOLVE RISK AND ARE NOT SUITABLE FOR ALL INVESTORS. INDIVIDUALS SHOULD NOT ENTER INTO OPTIONS TRANSACTIONS UNTIL THEY HAVE READ AND UNDERSTOOD THE RISK DISCLOSURE DOCUMENT CHARACTERISTICS AND RISKS OF STANDARDIZED OPTIONS AVAILABLE BY VISITING WWW.OPTIONSEDUCATION.ORG.
ANY STRATEGIES DISCUSSED, INCLUDING EXAMPLES USING ACTUAL SECURITIES AND PRICE DATA, ARE STRICTLY FOR ILLUSTRATIVE AND EDUCATIONAL PURPOSES ONLY AND ARE NOT TO BE CONSTRUED AS AN ENDORSEMENT, RECOMMENDATION OR SOLICITATION TO BUY OR SELL SECURITIES. PAST PERFORMANCE IS NOT A GUARANTEE OF FUTURE RESULTS. COPYRIGHT C 2016 THE OPTIONS INDUSTRY COUNCIL. ALL RIGHTS RESERVED.
From the Options Industry Council (OIC)