Strong Group Going into Earnings
11/12/2013 11:12 am EST
Focus: STOCKS
With the seasonal tendency providing tailwinds for the retail sector, MoneyShow's Tom Aspray examines a few department stores about to report earnings for clues on how they will react.
It was a very quiet session Monday as expected though the Dow Industrials made further new all-time highs. Volume was light, and with the bond market closed, there was not an update on the 10-year T-note yields, which surged late last week.
As noted after Friday's close, the daily studies need further gains from the major averages and market internals to signal another strong rally phase. A daily close in the S&P futures above the 1775 level would be a positive sign. They are down slightly in early trading.
The department stores did well on Monday as most of the key stocks report earnings this week, starting with Dillard's Inc. (DDS), which most sources expected to report before today's opening but no information was available on the corporate home page. Macy's Inc. (M) reports on Wednesday with Kohl's Corp. (KSS) and Nordstrom Inc. (JWN) on Thursday.
A technical look at these department stores could provide some guidance on how they will react to earnings. The group has a positive seasonal tendency going into the end of the year.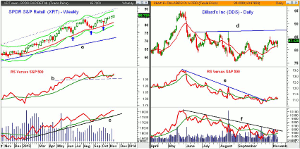 Click to Enlarge
Chart Analysis: The SPDR S&P Retail (XRT) was discussed at the end of October using multiple time frame relative performance analysis.
Dillard's Inc. (DDS) dropped below its 20-day EMA Monday before reversing to close on the day's highs.
NEXT PAGE: 2 More Strong Retailers
|pagebreak|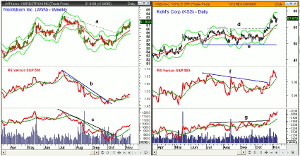 Click to Enlarge
Nordstrom Inc. (JWN) has had an impressive rally from the October low at $55.51 as it is up 11.4%.
The four-month trading range in Kohl's Corp. (KSS), lines d and e, was completed on October 22.
What It Means: It has been a tough earnings seasons as some stocks have rallied on bad earnings and others have dropped on good earnings. All three of these department stores seem to be under accumulation along with Macy's (M), which I have been trying to buy on a pullback.
I previously recommended Kohl's Corp. (KSS) and more aggressive investors could take a partial position on a pullback in DDS into Tuesday's range.
How to Profit: For Dillard's Inc. (DDS), go 50% long at $82.38 with a stop at $79.47 (risk of 3.5%). Cancel if $84.90 is hit first. If long, raise the stop to $80.33 on a close above $85.10.
Portfolio Update: Should be 50% long Kohl's Corporation (KSS) at $52.37 and 50% long at $51.81, use a stop now at $53.77. Sell 1/3 at $59.22 or better.
Cancel prior order in Macy's Inc. (M) to go 50% long at $45.02 and 50% at $44.24, with a stop at $43.37.