Know When the Bottom Is in for Metals
05/24/2012 7:45 am EST
Focus: COMMODITIES
Precious metals and mining stocks are showing signs of a bottom, writes JW Jones of Options Trading Signals, but until key trend lines are surpassed, a new leg of the historic long-term metal rally cannot get underway.
A lot of writers have stated that gold has bottomed. I am not totally convinced, however, I do believe that gold is in a bottoming process. For me to get completely in my gold bull suit, I would need to see price action exceed the key resistance trend line shown below.

Click to Enlarge
As can be seen above, until we see price push through resistance, I will remain cautious. I would also point out that the last two times gold found bottoms near current prices, the bottoming process took several weeks to complete.
See related: 2 Words for Anyone Predicting a Bottom
I do not expect for gold to form a V-shaped reversal. In fact, lower prices in the short term would help drive the bullish case for the longer term. Bottoms take weeks to form and can be very dangerous trading environments where active traders get chopped around.
Silver is very similar to gold in that it appears to have formed the beginning of a possible bottom. Bottoms are generally not formed in one day. During the recent selloff, silver showed relative strength against gold. It is important to acknowledge that silver has yet to test the key lows that should offer support.
Because of this divergence in these two precious metals, I continue to believe that gold may see more downside again before a much stronger rally begins to take hold. Similar to gold, the descending trend line for silver offers a great resistance level where traders can flip from being short-term bearish to longer-term bullish if the resistance line is penetrated.
If we see silver carve out multiple daily closes above the resistance trend line paired with strong volume, I would anticipate that a bottom has formed and silver prices will have an upward bias. The daily chart of silver is shown below.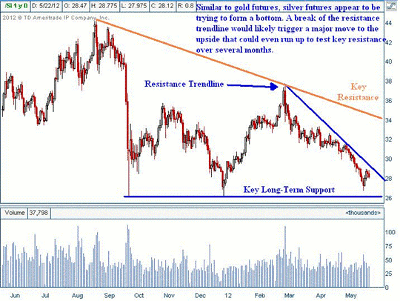 Click to Enlarge
As expected, the gold miners have shown relative strength recently. The miners were just absolutely massacred during the recent selloff in equities and precious metals, however, gold miners, similar to precious metals, have a major descending trend line which they have already tested today.
NEXT: Gold Mining Stocks Could Begin Large-Scale Rally
|pagebreak|
If the gold miners can push through resistance, a large-scale rally could play out. The daily chart of the Market Vectors Gold Miners ETF (GDX) is shown below.
In addition, if readers look at a long-term GDX price range that dates back to the 2009 lows, the recent pullback is almost precisely a 50% Fibonacci retracement. Similar to gold and silver, I would expect to see the gold miners pull back a bit here before pushing through major resistance.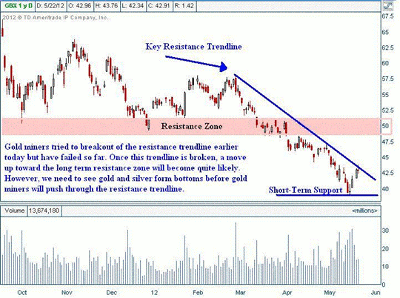 Click to Enlarge
We may be setting up for a possible major bottom in precious metals and gold miners in the near future. Only time will tell.
By JW Jones of Options Trading Signals
Be sure to catch tomorrow's follow-up article, which will present a controversial scenario most economists haven't predicted that would make precious metals even more valuable long term.