4 Growth Themes and Plays
12/04/2012 7:00 am EST
Focus: STOCKS
Every two weeks, the Briefing Trader team at Briefing.com meets to discuss their outlook on the market, trading conditions, and to review specific investing and trading ideas. Here, they highlight several growth ideas that are starting to crop up on their Relative Strength lists.
Trading is again dominated by headline-driven noise, as Obama, Reid, and Boehner attempt to influence public opinion and pressure the other side through statements to the media. These statements do move markets; you just have to remind yourself that this is all noise until the endgame comes much clearer into focus.
Aside from that, here are four observations related to recent market action:
1) Housing-Related Stocks Are Still the Clear Leaders, But This is Not a New Trend
While the outperformance in housing-related stocks may seem to be a more recent trend that emerged over the past few months, as the chart below shows this outperformance is actually a pretty mature theme, as it's been going on for more than a year. The reason why it's getting more attention now is because of the recent acceleration of this trend since August, which is around the time that tech began to implode and the housing data started to come in unambiguously strong.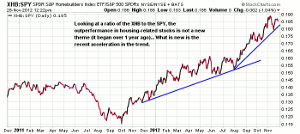 Click to Enlarge
The point here is that while housing's relative strength is very clear, many of the leading stocks in this group have been running for a year or more so the ride could get bumpy in the near-term as profits are taken.
2) Some of the Dogs Are Finally Having Their Day
After forming similar bottoming patterns during the summer and early fall, money has flowed aggressively into such left-for-dead big-caps such as RIMM, NOK, FSLR, and CREE.
Investors need to consider these on a company-specific basis though, rather than drawing broader conclusions. RIMM is a value trap—the smartphone platform war is over, and Blackberry 10 is not going to save the company. NOK is in real trouble unless the recently-released Lumia 920 turns out to be an unexpected success (or Microsoft just buys them).
FSLR and CREE are more interesting, though. FSLR has done a good job weaning itself off government subsidies and focusing on private-sector or local projects that aren't dependent on government hand-outs. With CREE, the long-expected mass adoption of LED light bulbs has always been "just around the corner," only to have the timetable pushed back yet again. However, if anything the recent election confirms that the US phase-out of the incandescent bulb isn't going to be rolled back, and for the first time since 4Q10 CREE was able to report positive top—and bottom-line growth.
NEXT PAGE: Two More Themes & Plays |pagebreak|
3) Investing in 3-D Printer Companies is Still a Basket Trade of SSYS and DDD, But....
While growth investors have known about these two stocks since 2H10, the press is still discovering the emergence of 3-D printing technology, so there's still plenty of positive news flow to support the stocks and generate retail investor interest.
Both DDD and SSYS have generally been moving together over the past 2+ years, with DDD generally being the faster grower both in terms of its growth rates and its stock price appreciation. However, as we've said many times over the past few months under the SETUPX ticker: investors need to be aware that much of DDD's growth is coming from its roll-up strategy. Investors have been willing to overlook this acquired growth as long as the company continues to beat expectations, but when the supply of accretive-to-neutral acquisitions begins to dry up, DDD is going to hit a wall and it won't be pretty.
Over the past few years, SSYS has followed a more conservative strategy that mostly relied on organic growth, but SSYS has its own unique risks now that it has merged with Israel-based Objet. Still, while investors clearly prefer the basket approach, I think that SSYS is the safer play for an investment time horizon.
4) Some Legitimately Interesting New Stories Are Starting to Crop Up on Relative Strength Lists
From my perspective, it's been a long time since I've seen a bunch of brand-new growth stories catch my interest. I'm starting to find more of these now, which is encouraging. These are mostly micro- to small-caps, so they will not be suitable for everyone. But the following four companies have recently been popping up on my Relative Strength screens and have interesting stories to match.
Repligen (RGEN): small med-tech company that has recently realigned its business to focus on selling consumables to large drug manufacturers such as Amgen, Pfizer, etc. Growth is starting to pick up, there's big margin expansion opportunity next year, and the balance sheet looks great.
Reed's (REED): maker of all-natural drinks for health-conscious consumers. Company has been selling its flagship ginger brew for 20 years. Growth was steady as the company added new supermarkets and expanded nationwide with Whole Foods, Trader Joe's, etc. But growth has accelerated recently due to REED's decision to produce private-label sodas for Safeway and other chains, and as REED's brand new Kombucha drink took off. However, after tasting some of REED's drinks, this isn't a mass market opportunity; people will buy these more for their perceived health benefits rather than for the taste.
Perion Networks (PERI): This is the old IncrediMail (MAIL), which changed its name to Perion last year. It's hard to get enthusiastic about a company based on free online email, but PERI has done a good job diversifying their revenue through acquisitions, has been consistently profitable with great margins, and recently made what looks like a very savvy acquisition.
GenMark Diagnostics (GNMK) is the most speculative of this crop of new ideas. GNMK is a molecular diagnostics company that sells a platform and related consumables to test for certain diseases ranging from cystic fibrosis to seasonal flu. Revenue growth has begun to accelerate, but the company will not be profitable for at least another year. Aside from new tests, the main upcoming catalyst is the introduction of GNMK's next-generation platform in 2013.
By the Staff of Briefing.com