Green is the New Black
11/27/2013 7:00 am EST
Focus: STOCKS
New technology is leading to more sustainable clothing companies, but will this become an industry standard, wonders Mary-Lynn Cesar of Kapitall.com.
DuPont (DD) released its third quarter earnings on Tuesday. Increased operating earnings year-over-year in nearly every segment helped the chemical giant rebound from its second quarter decline, with a profit of $0.45 a share.
In the company's Industrial Biosciences' unit, high sales of renewably sourced fiber Sorona drove the segment's operating profit up 12.5% from the third quarter of 2012. Made with "rapidly renewable" materials, Sorona is a biopolymer used to create sustainable carpeting and apparel.
By substituting corn-derived glucose for the petrochemical ingredient used in petroleum-based materials, Sorona production consumes 30% less energy and reduces greenhouse gas emissions by 63%, in comparison to production of an equivalent amount of nylon.
The fiber blends easily with others, and its composition allows apparel manufacturers to dye fabric blends at lower temperatures. This drives down energy consumption even more-lowering the dyeing process's environmental impact.
Making Green Look Good
Just as Sorona enables manufacturers to create sustainable garments, Nike's (NKE) MAKING app aims to help clothing designers integrate sustainability into their work. Launched this summer in the Apple Store, MAKING collects Nike's own ratings for a material's chemistry, energy/greenhouse gas intensity, water/land intensity, and physical waste.
It then combines them to provide a holistic sustainability score for consumers and designers alike. Developed over the course of seven years of research, Nike hopes that the new app will help designers make "better choices" with regards to their supply chains.
Investing Ideas
Nike is one of many prominent brands to have publicly expressed a desire to reduce their environmental impact. A look at Google trends for "sustainable brands" over the last nine years shows that the term is rising in worldwide search interest.
With that in mind, we decided to look for some textile and apparel stocks with a commitment to the environment.
To create the list below, we began with a universe comprised of textile and apparel stocks. We then narrowed down that group with the help of CSRHub, a database for corporate social responsibility that awards companies scores in different categories.
We only included companies with environmental scores above 50. Scores on CSRHub are converted into a rating from 0-100, with 100 being the most positive.
Finally, we looked for companies with encouraging accounts receivable trends as indicated by faster growth in revenue than accounts receivable year-over-year, as well as accounts receivable comprising a smaller portion of current assets over the same time period.
Accounts receivable is the portion of revenue not yet received, and since there is no guarantee that a company will actually get the money, the smaller the portion of revenue attributable to receivables, the healthier the company's revenue.
We were left with three apparel stocks on our list.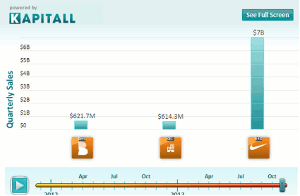 Click to Enlarge
Do you think these environmentally conscious companies are promising investments? Use this list as a starting point for your own analysis.
1. Brown Shoe Co. Inc. (BWS): Operates as a footwear retailer and wholesaler primarily in the in the United States, Canada, China, and Guam.
Market cap at $976.64M, most recent closing price at $23.62.
Environmental score: 70. Its strength is in "resource management."
Revenue grew by 10.06% during the most recent quarter ($621.71M vs. $564.9M y/y). Accounts receivable grew by -10.42% during the same time period ($120.05M vs. $134.02M y/y). Receivables, as a percentage of current assets, decreased from 15.73% to 14.25% during the most recent quarter (comparing 13 weeks ending 2013-08-03 to 13 weeks ending 2012-07-28).
The company owns Carlos, Dr. Scholl's Shoes, Fergie, Franco Sarto, Naturalizer, Naya, Ryka, Sam Edelman, Via Spiga, and Vince brands as well as retail outlets Famous Footwear, and Shoes.com.
Launched in 2010, Naya is Brown Shoe Company's eco-friendly line of women's shoes crafted with sustainable materials such as natural and recycled content fabrics, natural cork and rice husk, and water-based cements whenever possible. Naya has sponsored several environmental initiatives over the years, most recently with an Earth Day tree planting campaign in Colorado to help with re-foresting after the wildfires in 2012.
2. Gildan Activewear Inc. (GIL): Manufactures and sells T-shirts, activewear, underwear, and socks to wholesale screen printers, embroiderers, and retailers in North America, Europe, and internationally.
Market cap at $5.84B, most recent closing price at $48.12.
Environmental score: 63. Its strength is in "policy & reporting."
Revenue grew by 2.35% during the most recent quarter ($614.32M vs. $600.24M y/y). Accounts receivable grew by -12.53% during the same time period ($265.89M vs. $303.98M y/y). Receivables, as a percentage of current assets, decreased from 32.26% to 26.% during the most recent quarter (comparing 13 weeks ending 2013-06-30 to 13 weeks ending 2012-07-01).
In September Gildan was added to the Textiles, Apparel, and Luxury Good sector of the Dow Jones Sustainability World Index. Per the OEKO-TEX Association, an independent body that certifies and tests textiles for the absence of harmful substances, Gildan uses sustainable raw materials such as organic and transitional cotton, post-consumer recycled PET fibers, and recycled textile clippings in a portion of its products.
Gildan has a comprehensive environmental plan, the details of which can be found on the Genuine Gildan website. The company is also a member of the Sustainable Apparel Coalition.
3. Nike Inc. (NKE): Designs, develops, and markets footwear, apparel, equipment, and accessory products for men, women, and children worldwide.
Market cap at $67.16B, most recent closing price at $75.51.
Environmental score: 58. Its strength is in "policy & reporting."
Revenue grew by 7.68% during the most recent quarter ($6,971M vs. $6,474M y/y). Accounts receivable grew by -6.53% during the same time period ($3,207M vs. $3,431M y/y). Receivables, as a percentage of current assets, decreased from 30.81% to 23.55% during the most recent quarter (comparing three months ending 2013-08-31 to 3 months ending 2012-08-31).
Nike introduced its sustainable Flyknit technology last year with the debut of the Flyknit Racer running shoe. The construction of the Flyknit Racer creates two-thirds less waste than a regular running shoe because it has a one-piece upper instead of the traditional one that is cut and stitched from multiple materials.
The company has also increased the amount of organic cotton, recycled polyester, and environmentally preferred rubber it uses in its products, which is outlined in greater detail on the Nike Responsibility website.
Accounting data sourced from Google Finance. Environmental data sourced from CSRHub. Quarterly sales data sourced from Zacks Investment Research. All other data sourced from Finviz.
By Mary-Lynn Cesar of Kapitall.com