'Dividend Fatigue' Strikes Costco
12/13/2012 5:00 am EST
Focus: STOCKS
It's a good time to be a member of the wholesale club's stock family, but not so much to become one, writes MoneyShow's Jim Jubak, also of Jubak's Picks.
A very subdued reaction to a very solid earnings report from Costco Wholesale (COST) today. Maybe it's special dividend fatigue.
Costco's earnings for the quarter that ended on November 25 (and yes, Costco's quarters are out of sync with just about every other retailer) rose 30%, to 95 cents a share from 73 cents in the same quarter of 2011. Wall Street had been predicting earnings of 93 cents a share.
The stock climbed 0.18% to $98.49 as of noon New York time. (The stock is a member of my Jubak's Picks portfolio.)
These earnings come after the announcement of a special $7 a share dividend. That news popped the stock, but shares then gave it all back-as financial theory suggests they should have-on December 6, the record date for the dividend.
Investors who had already qualified for the dividend by owning shares on that day sold, and the stock fell $7.48 a share-or 7.06%. It closed the day pretty much where it had been before the special dividend news.
But Costco's stock doesn't usually move very much on earnings reports in any quarter, since the company releases most of the really important data before the earnings report itself. So investors already knew that same-store sales would be up a very impressive 6% in the quarter (excluding changes in gas prices and exchange rates.)
Net sales climbed 9.6% in the quarter, and revenue from membership fees rose 14%. (Revenue from membership fees is an important number at Costco, since membership dollars are high-margin dollars. That's very important at a low-cost retailer.)
Margins for the quarter climbed a tiny 6 basis points year over year. (100 basis points make up one percentage point.) Gross margins for core merchandise fell 1 basis point, which was a smaller decline than the company had seen in previous quarters.
When I added Costco to Jubak's Picks on October 24, I calculated a May 2013 target price of $110 a share. We've already collected $7 as a special dividend.
I think the retail environment for early 2013 remains challenging. Costco's low-cost model is a good match for consumers watching their wallets in a slow-growth environment, but I am worried about the possibility that the worries/realities of the fiscal cliff and any brinkmanship over raising the debt ceiling could slow the economy so much in the first half of the year that even low-cost retailers would feel the pain.
With the Fed's move today to continue pumping billions into the money supply each month, I'm going to hold Costco further into December on the prospects of a continued move upward in the entire market, especially because December tends to be good to retail stocks. But I'm not looking for a whole lot more upside here in the short term.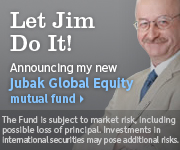 Full disclosure: I don't own shares of any of the companies mentioned in this post in my personal portfolio. The mutual fund I manage, Jubak Global Equity Fund, may or may not now own positions in any stock mentioned in this post. The fund did not own shares of Costco as of the end of September. For a full list of the stocks in the fund as of the end of September, see the fund's portfolio here.